I was just perusing my Facebook news feed while procrastinating and simply refusing to begin my decorating and finish up an etsy order and came across a friend who asked for input regarding some of the best registry items to include on your baby registry. I was thinking about it and realized that there is NO short answer...so I thought I'd blog about it...bahaha...crazy ramblings...GO!
High Quality Baby Bedding - Yes, this is hard to come by...but why spend $500 on bedding that feels like sandpaper? I much prefer a higher threadcount to a "cute" pattern...PLUS you'll reap the benefits of having crib bedding that lasts through more than one kid!
Nice Diaper Bag - Take your time and look for something that will make you feel comfortable as a new mom Some prefer a bag that doesn't scream "MOMMY!" and others prefer a more utilitarian approach. There is no wrong way, but keep in mind that it is nice if the bag can double as something other than a diaper bag once baby is 2 or 3 years old :-D
Swaddling Blankets - Go for a variety, but no need to have thousands on hand at any given time. I like to have 3 or 4 Aiden & Anais thin muslin blankets plus the Miracle Blanket, a Woombie, a Swaddle Strap (especially if you have a summer baby), and one of the typical cotton SwaddleMe wraps.
A GOOD Nursing Pillow - Although you have quite a few of these to choose from, many just go for the typical Boppy because of the wide variety of colors/patterns for slipcovers. When I first saw the "My Brest Friend" I thought it was something that was merely created for Saturday Night Live material...that is until I tried it out. The My Brest Friend is a thing of wonder for breastfeeding moms who aren't a fan of sitting for hours on end in the same place on the couch and would like to at the very least occasionally get up to use the restroom or get something to eat/drink. Don't forget about the Gia pillow, which I have also heard positive reviews about...
Double Electric Breast Pump - Here you can do one of two things...option a) hold off on buying a breast pump, but do your research beforehand and decide which one you would like to get post-baby (I am a die-hard Medela Freestyle user because hands-free is a MUST in my world). For option a, I would also like to suggest renting the Medela Symphony from your local hospital or Babies 'R Us (purchasing the kit that goes with it) for at least 2 weeks, but preferably a month. Option b) purchase double electric pump now, after having done your research. For both kids I used the Freestyle but ended up renting the Symphony for the first month anyway because my vampire children don't come out knowing how to nurse correctly...it is a long and difficult road, but more than worth it in the long run. (P.S. No matter what pump you buy, check out the hands-free pumping bustier below - don't think about how ridiculous it looks...just buy it and thank me later.)
Alternative Sleeping Contraption - By this I mean a Nap Nanny, baby hammock, swing, or bouncer..."just in case." We have run the gamut when it comes to buying products that are designed to help baby fall asleep and/or stay asleep. Because of this we have a Kanoe (like a baby hammock, which is great, but requires that you use a massive bolt that is hooked into your ceiling), Nap Nanny, countless bassinets (Orbit, Bugaboo, etc), a swing, a MamaRoo, and a bouncer...plus I guess you could technically count all of the crazy other contraptions, like a mattress vibrating unit we had for Cole plus all of the white noise machines and iTunes downloads we have. For this category of goods, I suggest getting one or two items to have in your arsenal and otherwise just wait for the lack of sleep to set in before purchasing more. Although pricey, the Nap Nanny seems to be a fairly universal solution as it solves positional reflux issues, which *most* infants have at least a little bit of at some point in their early life. Remember: USE ONLY AS DIRECTED...don't be an idiot parent and choose to purposefully ignore the instructions...don't put it anywhere except the floor...buckle the kid in the seat, and don't try to smother them with blankets and pillows...ever...thanks...end of PSA. I would also suggest downloading a couple of white noise tracks from iTunes and burning them to a couple CDs - one for the nursery and one for your car. Cole's favorite is the inside of a running diswasher...Vera's is the creepy sound of humpback whales.
Baby Bath Tub - Don't want to listen to the sound of your newborn screaming bloody murder every bath night? Ahhh. Then I have a pretty awesome solution for you. Enter the Prince Lionheart WashPod. This little puppy may *look* like a glorified bucket (and according to my husband, that is, indeed, what it is), but because it is designed to submerge your kid in warm water up to their shoulders/chest, they will have no cause for screaming because you are trying to freeze them to death with other contraptions that put them in about an inch of water and leave most everything exposed to the cold air.
DwellStudio "Alphabet" (purchased in 2008 for Cole)
PPB Sashay Satchel (purchased Gap exclusive "Delightful Dandelions" )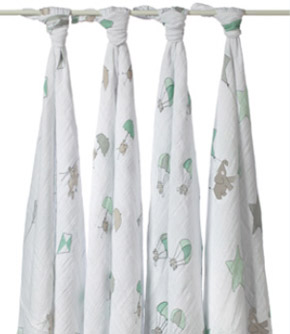 Aiden & Anais Muslin Swaddle Blankets
The Woombie
SwaddleMe
The Miracle Blanket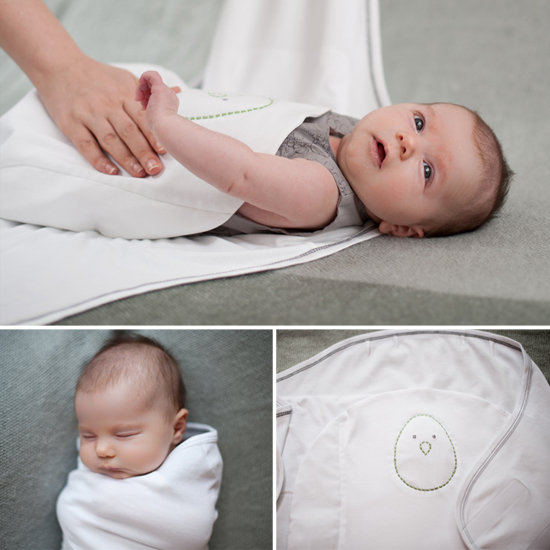 The Nested Bean Weighted Swaddle (trying out this time around)
Gia Angled Nursing Pillow
My Brest Friend "Fireworks"
Boppy Nursing Pillow
Hospital Grade Medela Symphony Pump
Medela Freestyle Hands-Free Pump
Simple Wishes Hands-Free Pumping Bustier (laugh now, but being able to check your mail, make dinner, and answer your phone while pumping will make you seem far more "normal" than you've felt in years comparatively...)
Prince Lionheart WashPOD
Nap Nanny Chill
Kanoe Hammock